I have blogged a few times over the past few weeks on declining crowds at this summer's test matches. This morning's Observer has a report on the matter. As Paul Weaver's article says:
The redevelopment work at Edgbaston has cut the capacity to 15,000, but just 10,020 pitched up for the first day and the match is expected to be completed tomorrow, the third day of the match... The situation at Nottingham was no better, with a poor attendance on the opening day, while the ground was also mostly empty when England won the match on the Sunday.
The Oval are also, apparently, "struggling for day one."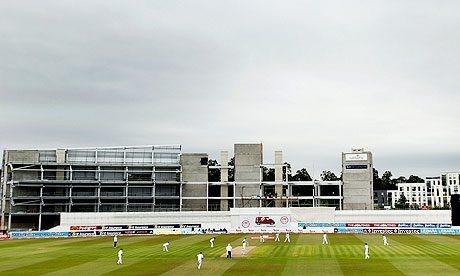 Weaver put forward a number of very valid reasons for the decline in crowds. Too much international cricket, the poor form of Pakistan and the baffling decision to hold back to back tests in the Midlands, followed by back to back tests in London are mentioned. The fact that cricketing authorities have totally ignored the North for this series is, of course, unforgivable.
However, Weaver doesn't mention two very important potential factors on declining crowds. Firstly, there is a sense that the series is somehow hidden away on Sky. Secondly, and crucially, the pricing policy for test matches puts test match cricket out of the reach of too many people. Most tickets for the Oval test match are between £70 and £80. That isn't really a working man's price - particularly for a series that is (surprisingly) beginning to look like a mismatch and for a match that starts after the football season has started.
Hopefully, the cricketing authorities will review their pricing policy before next season so that new fans and supporters on a budget are not excluded on the basis of price.